Our Past President 1972-January 2009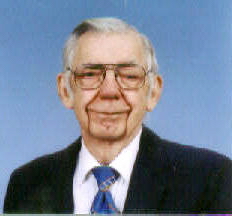 Ralph W. Gehr, President of Pilgrim Tract Society, Inc. 1972 to January 2009
I was born on October 28, 1918 in Newberry, Pennsylvania to Fred and Edna Shafer Gehr. Fred, whose real name was Fredrick Cleveland Gehr, the son of Jacob Gehr who lived on a farm one mile west of the Hepburn Baptist Church, and Edna Shafer, the daughter of Ephram Shafer who lived on a farm about two miles east of the same church, were married either in late November or early December of 1917. They lived in Newberry until 1920 when they moved to the William H. Ulmer farm owned now by my brother Lester S. Gehr. Father farmed on shares for Mr. Ulmer until 1926 when he bought the farm.
I was taken to Sunday School and Church farther back than I can remember and all the while I knew my mother she worked in the Primary Department of the Sunday School of the Hepburn Baptist Church. However, my early childhood did not match my training. After I got grown my father told me that before that I can remember, I used to search for eggs and break windows in the barn. I do remember finding a kitten in the barn and throwing it up into the sheaf mow and climbing up to get it and then throwing it down on the barn floor and keeping this up until the kitten was dead. I remember telling my mother several times I wanted a little brother to play with but after he came, the biggest thing I can remember is quarrelling with him and making him cry. I can't remember him ever starting the trouble. This is a brief description of the wicked sinful nature I was born with and caused me much grief after I began to realize it.
One of the earliest rememberance of being at church when anything stuck with me was an evening service when the visiting preacher had left the pulpit and was walking up and down the isle waving his hands and saying, "I have power to lay down my life and I have power to take it again." That puzzled me, young as I was I knew that when people died they were dead and didn't get up and walk around again. Who was this preacher that had such power? Rather than ask anyone that could have told me he was talking about Christ and not himself I pondered it for, I suppose a few years, until I learned more about the Scripture.
My mother was kind to us and took good care of us, read us bedtime stories mostly children's Bible Stories, answered my childish questions and told us about Jesus while father worked the farm and taught me how to do simple chores. He went to town every other Friday to peddle butter, eggs, and etc. from the farm and usually brought us something when he returned. Lester and I had many little cast iron cars that were a great pleasure to us to play with.
In September of 1929 my father bought his first car, a 1926 Dodge touring car that has 'Side Curtains' that could be put on in cold weather which he bought through Harris Ludwig for $200. Most other farmers had cars before then but to us it was a new era. He began going to town every week and we could spin off to church and to the neighbors. His average driving was about 2,000 miles per year. The roads were not hard surfaced then and in the springtime when the frost came out sometimes they became impassable, other times nearly so. I remember one Sunday we ground our way with the chains on to both the morning and evening services and as best I can remember, Mr. Ulmer went with us. When we got home that night my father said, "We made two trips (a total of four miles) and used two gallons of gas."
(Today's date–March 4, 2004. Visit this page later to read the remaining life story about Ralph Gehr which will be completed later.)
Ralph W. Gehr went home to be with the Lord on March 25, 2009.